Bullet Point News sat down with local residents and friends Sarah Ranson and Dave Mills: two musical staples here in Stouffville.
The duet, Dave and Sarah, play throughout the York and Durham regions, drawing inspiration from various musical genres including folk, pop, and country.
While they cover a range of different musicians, Mills and Ranson also work together to craft original songs. "We're trying to write songs that mean a lot to us, personally," Ranson told us.
"We try to mix it up, and hopefully, by the end of 2023, we'll have a whole bunch of new, original songs," Mills noted.
Ranson's son Matthew Luz, an 11-year-old drummer, occasionally performs with the group, adding an energetic element to their live shows.
Luz started playing drums thanks to the Rock Band video game. After moving over to a real drum set, Luz says it feels awesome getting up on stage with Mills and Ranson.
The duo's journey as performers has taught them valuable lessons, including the importance of practice and working together to build confidence on stage.
Ranson and Mills encourage aspiring musicians to believe in their skills and pursue their dreams. "If you have the talent, believe in yourself and just see where it takes you," Ranson advises.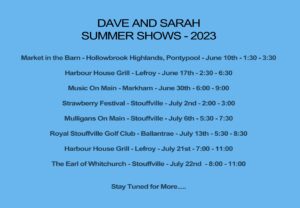 Watch the interview with Sarah Ranson, Dave Mills, and Matthew Luz by clicking on the image below