Stouffville residents say that vehicle thefts are happening more frequently and brazenly in the past year. A jeep was stolen right out of the driveway this past summer.
A white hybrid or electric SUV with tinted windows was parked for a while in the driveway of a family at around 7 am (image below). A small framed individual wearing a dark hoodie and baseball cap waited in the car with the motor running, and only left when a police cruiser was circling the area.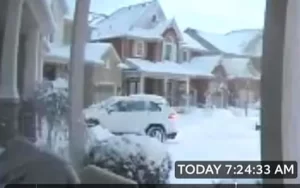 Today at 4:45 am, two men wearing white successfully opened the door of a vehicle on a family's driveway. Fortunately, they were unable to open the steering wheel club and left. Image of the two men is above.

Targeted vehicles include pick-up trucks, jeeps, and higher end vehicles.
Thieves are experienced, scope out vehicles during the day, and return in the middle of the night or in the early morning. Outdoor lights or street lights do not phase them. They are in and out within 1 to 2 minutes.
Pay attention to what is happening on your street. Communicate with your neighbours about cars you do not recognize that are not delivery vehicles.
If there is something suspicious, call York Regional Police's non-emergency line at 1-866-876-5423. Try to get a license plate number.
Use a security camera or ask your neighbours if they have footage; help one another out.
Spread the word to watch out for vehicle theft!