To raise funds for the Markham-Stouffville Hospital Foundation and entice greater use of Stouffville's lawn bowling facility, Mayor Lovatt's office hosts "All Night Lawn" on the second Friday of the month from June through August.
July's "All Night Lawn" rolls in this Friday, July 14.
The events are hosted by the Stouffville Lawn Bowling Club at 4 Church Street South.
The night begins at 6:30 p.m., ends at 10:30 p.m., and includes music and snacks.
Members of the Stouffville Lawn Bowling Club provide coaching and support for new players.
While many residents may be unfamiliar with the sport, lawn bowling has a long history in Stouffville dating back to 1894.
"I knew an event like this would greatly benefit our community," Mayor Lovatt expressed at the first "All Night Lawn" event on June 9. "Although we're known for our spirit and generosity, Stouffville's support for our community hospital has room to grow."
"This is our chance to step up and show our commitment to the hospital that provides care to our community each and every day," he added on the fundraising page.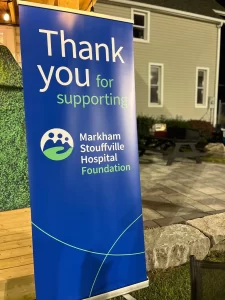 .